HotUKdeals.com Android users
We're pleased to offer a genuine opportunity to Android tablet and smartphone visitors coming here from HotUKDeals.com . If you can meet a few fairly simple criteria, there's a job waiting for you now. Interested ? Read on …..
What's it all about ?
How do you use your tablet or smartphone ? Have you ever thought about how clever it is in understanding your search query, or how good it is at recognising your voice ? Have you used Google, or Siri or Cortana, and asked it to find something out for you ?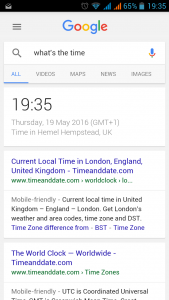 If you thought that there's some clever computer somewhere that knows all this stuff – you're right. However how did the computer learn it ? Well in part it was taught what it knows by an army of people just like you who have helped it along it's way.  It's called crowd sourcing where lots of people contribute to a big pool of knowledge. This job is to help Google – yes Google, to improve it's voice recognition software.
What's the job doing ?
We'll give you full details if you meet the criteria, but for now let's just say that there are a load of phrases that you'll be asked to read out to your tablet or smartphone. The work can be done any time of day or night and you don't have to do all it at once. You're free to  work it round your schedule, and the sooner you do it, the sooner you'll be paid.
How do I qualify ?
There are some fairly simple criteria that you need to meet like having grown up in the UK, and having a clearly British accent. You'll also need an Android tablet or smartphone for at least 70% of the work. Fill in our quick and easy form and we'll let you know if you have got what it takes.
 What do I get for doing the job ?
The pay is a fixed fee of £25 for completing 2000 recordings. It will probably take you 2-3 hours depending on how fast you work. Once you complete the task, let us know via this form and we'll check your work met the required standards. Once this is done, we'll make a payment to your email address via Paypal.
Can I get my family and friends to do this too ?
Yes absolutely. Just email this link http://goo.gl/forms/ksVTqhTt3EeIzowj1 to them to get started or tell them about this page.
Is this a scam ?
Absolutely not. While there many get rich quick schemes and various too good to be true scams going around, this is not one of them. Technology Gurus are real – just look at our Google feedback – provided by real people locally who we have done business with before and trust us. Google are one of the biggest companies in the world and the work is for them. You will see that when you get started.
Do I have to pay tax ?
You are obliged by the law in this country to declare your income to the tax man, and any money you earn may be liable for tax. It is up to you to do that.
Any questions ?
If you're still not sure or have any questions, feel free to send us an email to info@technologygurus.co.uk or click on the chat button in the bottom right corner of the page.