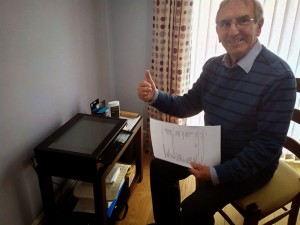 Terry from Hertfordshire bought a new HP Envy 120 wireless printer to go with his laptop, and new BT Infinity broadband. After connecting the printer to his BT Home Hub 5 router wirelessly, he tried printing an email. Unfortunately not all of it came out. Then the printer would print 2 copies, and then it stopped printing altogether. That's when Terry gave us a call. We quickly went round and checked everything out.
The printer LOOKED OK – it was connected to the BT Home hub.
The Laptop was correctly connected to the internet via the home hub too.
But no printing !
So after a bit of investigation, we found that it wasn't printing because of a communication issue with the BT Home Hub. Also because of this, the prints that had previously failed were queuing up to be printed. So we fixed both problems, and then looked into the missing parts of the emails. It turned out that the web page being used to print the email had several ways to print, and the one being used couldn't print the entire page. So we showed Terry the best way to print the email and voila – Everything worked.
Terry was delighted that everything was working, and grabbed a handful of our business cards. "Let me hand them out to my friends at the golf club as I'm sure they would appreciate your services at some point."  Excellent. Another satisfied customer.
Technology Gurus comment – You know where we are in the future. We're looking forward to meeting your friends Terry !
If you're in any doubt of our reputation, see what Google has to say about is. We're the best in town !