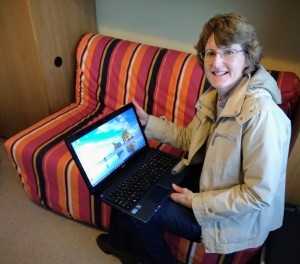 Malware and broken screen FIXED !
Wendy first came to us late 2016 with a laptop that had suffered an unfortunate accident. No names mentioned, but someone had closed the lid with a pen inside and the screen had smashed. No problem. Lets get a new screen installed, and get you back to normal. Shortly after dropping in the machine, it was back in proper working order, and Wendy was happy with the results.
So much so that a few months later when there was a problem logging in to Windows 10, Wendy came back for more of our excellent service. What looked like a slow laptop, and corrupt profile turned out to be a tricky repair. Despite the antivirus software showing no problems, there was in fact a bunch of malware and viruses that had rendered the machine pretty much useless. So we reset the Windows 10 operating system, making sure all of the existing data was protected and re-installed the BT Virus Protect software. The machine was then given a good clean, and was returned to a happy customer. It's now zipping along like a spring chicken.
Technology Gurus comment – Thanks for coming back, and thank you for your great review on Google Wendy.   
If you're in any doubt of our reputation, see what Google has to say about is. We're the best in town !